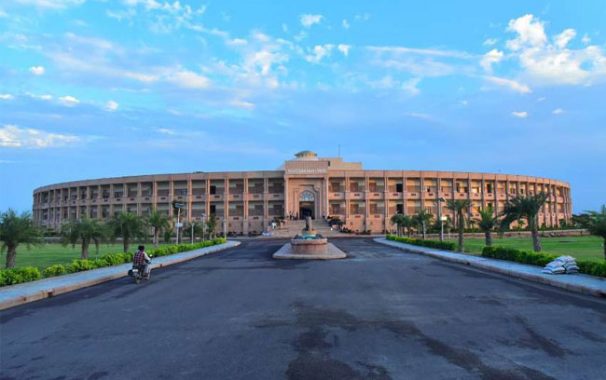 President Ram Nath Kovind inaugurated the country's most modern and beautiful Rajasthan High Court building on 07 December 2019. The new building of the High Court spread over the 168.20 bigha area on Jaipur National Highway is not only artistic but also unique and full of amenities. The main building of the High Court has been constructed in the area of ​​22.61 bighas, with 22 courtrooms including the courtroom of the Chief Justice, where complete details of the cases going on in the courtroom will be seen on the digital software-based display board. The main dome of the High Court is 35 meters from the ground i.e. 120 feet and the diameter of the dome is 118 feet.
Special Arrangements for Women Employees
Special attention is given to women employees. The most special thing about this building is that it has a separate kids' zone. If the women employees or lawyers working here bring their young children with them while on duty, then the arrangement has been kept for them. Nanny will be there all the time to handle the children. There will also be toys for children. </p>
Unique Library
The library here will also attract you a lot. It has a new way of placing books in a condensed way. You would not have seen such a large and modern library in Jodhpur before. Apart from this, the walls of the court complex have also been decorated with the style of Marwar in the medium of displaying the cultural tradition and artistic surroundings of Marwar. In addition, fountains and artistic lights have also been installed in the outside garden. A couch has also been provided for seating for the meeting hall and visitors. By looking at its model, it seems that this new building has been made bigger than the Parliament of India.
14 Elevators with High-Tech Equipment
Equipped with state-of-the-art equipment and furniture, this building has been made up of famous Jodhpur sand stone (Chittar Stone). This building has 14 lifts. This building will not only create an identity for its judicial work, but it is also going to be a center of attraction for its grandeur.
Equipped with air-conditioning and Wi-Fi
It is the only building in Asia to be recognized as a modern and grand court. This building has 1659 pillars. The campus of Rajasthan High Court is a fully central air condition with the entire building having wi-fi. CCTV cameras have been installed in every part of the building. Mike arrangements for the judges and advocates to communicate. There is a conference hall which is fully equipped with modern equipment.